Our lives are busy, and sometimes parenting can feel like another set of boxes to check. But when we go on autopilot, we risk losing opportunities to form genuine connections with our kids. Connecting builds trust and security in your child's mind, which will help them feel safe talking to you when they need or want advice or just someone to talk with. It also helps build their self-esteem by letting them know how much their parents care about them. Here are five ways to connect with your kids (and check out our guide for 5 more suggestions!):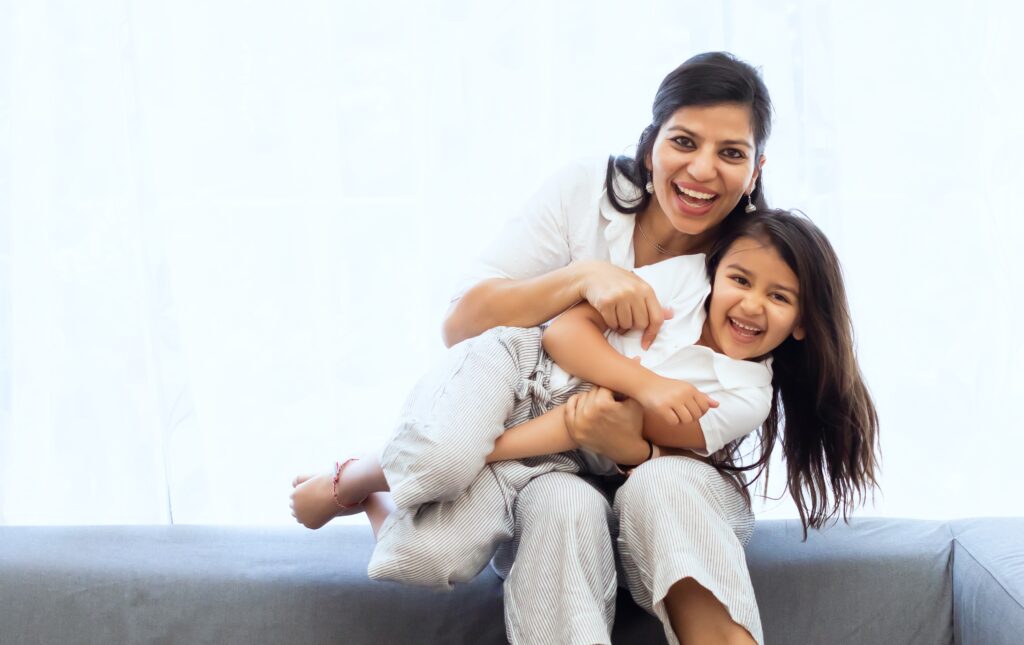 1. Ask open-ended questions and practice listening
Open-ended questions encourage your child to give a thoughtful response. Instead of asking questions that allow for a yes-or-no answer (e.g., "Did you have a good day at school?"), try framing your questions to prompt more conversation (e.g., "What made you feel good at school today?"). Asking questions in this manner will help children learn to express themselves in words rather than just showing feelings through their actions. By listening and responding to them in a thoughtful and non-judgmental way, you can show your child that you care about their thoughts and feelings. Every dialogue with your child is an opportunity to model respectful talking and listening and to deepen your connection with them.
2. Play and explore together
Letting your kids see you laugh, learn, and grow is a key way to connect with them. To create these opportunities, take on a low-stakes challenge together—build a model rocket, take a cooking class, try slack-lining. Encourage each other and laugh at your mistakes. You might also try letting your child introduce you to something that they love, whether it's a video game, a book series, or a sport. Participating in their interests with an open mind shows your kids that you care about their unique passions and pursuits.
3. Use technology to your advantage
Technology often can be a distraction from genuine connection, but there are ways parents can harness technology to their advantage in connecting with their child. Movie nights are a great excuse to cuddle up on the couch and enjoy physical closeness while also enjoying the shared experience of the film. If you have older children, you might send them funny videos or memes or even spontaneous "I love you" texts throughout the week to let them know you're thinking of them. Finally, intentional technology breaks also can facilitate connection. Establishing phone-free times will encourage everyone to be more present in their interactions.
4. Find moments for quiet connection
Connecting with your kid can happen in small, quiet, or unexpected ways in your everyday life. You might make eye contact and smile at them, give them a spontaneous hug, or offer to help make their bed. Perhaps you have meaningful daily rituals, like reading a bedtime story together or making their pancakes into fun shapes. These moments of quiet, yet frequent, connection remind your children that you are a safe and supportive person in their life.
5. Share memories
Sharing memories is a way for you to connect with your child by helping them to understand your history and the history you've shared together. Flip through photo albums together and help your children learn about their family tree. Show them pictures of yourself at their age and have a conversation about the ways your life was different from how theirs is now. Bring out your child's baby photos and tell them about the adventures you had together in their earliest months and how you've loved watching them grow and change. Sharing memories is a form of sharing emotions and a meaningful way for you and your child to develop a stronger understanding of one another.
Taking the time to connect with our children can build long-lasting relationships. The best part is that you don't have to do this only when they are young—it's never too late to start building a bond with your children, no matter their ages! For more tips on building day-to-day connections with your children, check out our guide.
Boys and Girls Club of Wooster enables all young people, especially those who need us the most, to reach their full potential as productive, caring, responsible citizens. Through Before School, After School, and Summer programs, we provide a safe, welcoming space for our members to learn, explore, grow, and develop into community leaders. Visit BGCWooster.org to learn more about who we are and how your partnership can impact the children and teens of Wooster, Ohio.