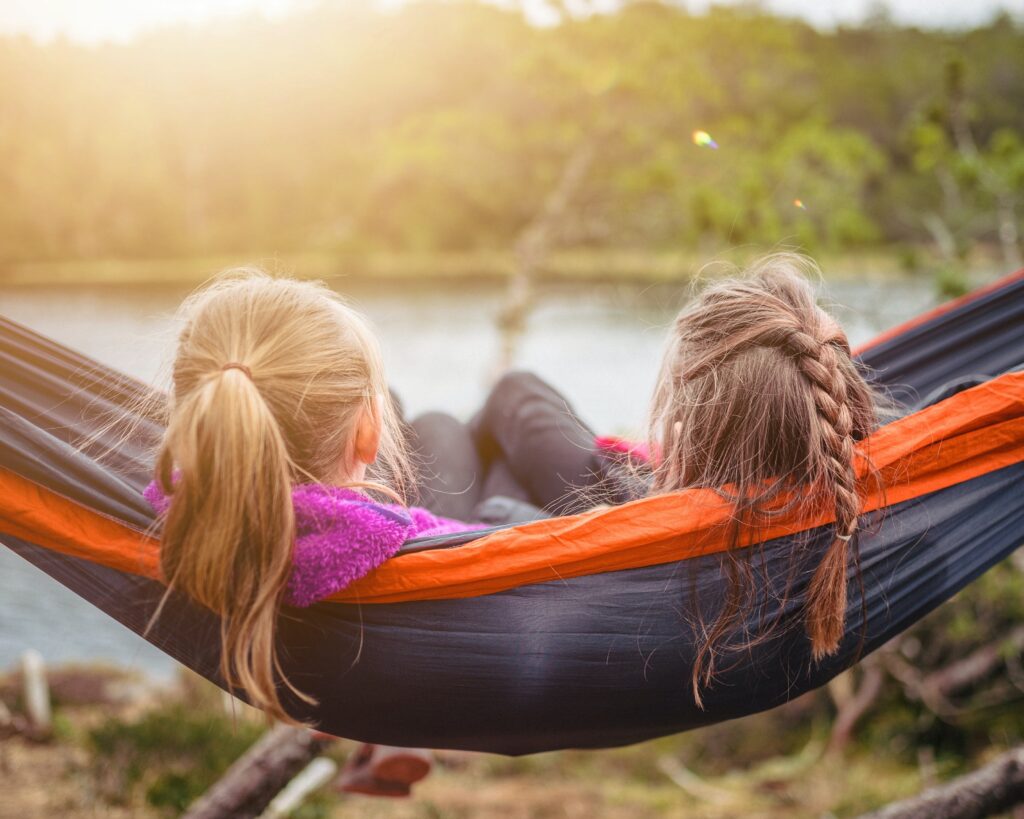 Whether you're looking for ways to spend more time outside as a family, or if you'd like to try something new and fun with the kids, these tips will help inspire you to embark on more outdoor adventures!
Time outdoors builds memories and makes life more enjoyable.
The benefits of spending time outdoors, whether as a family or on your own, are plentiful, according to the American Psychiatric Association. These include:
Good health: Being outdoors can help you get exercise while enjoying the fresh air and sun. It's also a good way to connect with nature—something that's good for both your body and mind.
Improved mood: Spending time in nature can help you feel calmer and happier.
Sharper cognition: People who spend even brief amounts of time in green space have improved concentration and performance in cognitive tasks.
Memory-making moments: Going on outdoor adventures with family members helps create lasting memories that can be shared throughout your lives together.
1. Camping.
Camping, whether at a campground or in your backyard, is a great way to spend time together as a family. We're all so busy with work, school and other activities that we don't get much time together. Camping can be a great way to get away from screens and enjoy the outdoors!
It's also an opportunity for families to get closer to nature. The kids will learn how things grow, such as plants and trees, how animals live in their environment and experience the wonder of nature first hand. It becomes more than just looking at pictures or watching TV shows—they actually experience it!
Camping is not just about hanging out but it also gives families plenty of opportunities for physical activity, such as hiking, biking, swimming or climbing.
2. Play flashlight tag.
Flashlight tag is a perfect activity for fall evenings when the sun sets early. Playing outside in the dark is a thrill for people of all ages, and the rules can be adapted to fit your family. For example, after being tagged with a flashlight, players must stand still for one minute before moving again. Or make it more challenging for kids who are older or faster than their younger siblings! Add another rule: If tagged with a flashlight and then hit again within three seconds of being tagged (or whatever time frame seems appropriate), they're out.
Not in the mood for tag? Other fun outdoor evening activities include catching fireflies, telling ghost stories, or building a campfire.
3. Take a nature walk.
This is one of the easiest ways to spend more time outdoors as a family, and it's also one of the most important. Exploring local parks, forests or beaches will help you get to know your environment in more detail. You can learn about local wildlife and plants by reading about them online or in books before heading out on your walk. This can be a great way for children to learn about the natural world around them and take pride in their home environment. It doesn't matter if it's raining outside; splashing in puddles can be part of the fun!
4. Have a picnic.
Picnics are a great way to spend time outdoors as a family. They're also a great way of bringing different generations together, since everyone loves food. If you don't have the space or budget for an outdoor table, try laying out blankets on the ground instead. This will help keep things casual and comfortable (and save money).
Games like "I Spy" can be played while picnicking—it's easy enough to do while sitting on blankets in the grass or along a lakeshore. You also could bring some board games with you that require little set-up time (e.g., Uno).
5. Plant a garden.
Setting aside space for an outdoor garden is an activity that can keep families busy for months! You can dig a garden plot in your backyard, or build a small raised garden bed. You can grow some of your family's favorite vegetables or flowers to decorate your home. Kids will be delighted by digging in the dirt and watching seeds grow into something that can see, taste, and smell.
Spending time in nature is beneficial for family members of all ages and abilities. If you're looking for a way to enjoy more outdoor time with your family, start by exploring in your own backyard and let your sense of adventure take over from there!
Boys and Girls Club of Wooster enables all young people, especially those who need us the most, to reach their full potential as productive, caring, responsible citizens. Through Before School, After School, and Summer programs, we provide a safe, welcoming space for our members to learn, explore, grow, and develop into leaders in our community. Visit BGCWooster.org to learn more about who we are and how your partnership can impact the children and teens of Wooster, Ohio.